What is Monk Fruit Sweetener?
SugarinM Monk Fruit Sweetener - Light Brown Granules
What is Monk Fruit?
Monk fruit ( Luo Han Guo ) is a naturally zero-calories sweetener, packed with heathly antioxidants and vitamins and is a unique alternative to sugar and artificial sweeteners.
Monk fruit is grown predominantly in the mountainous Southern part of China. It is a perennial vine in the Cucurbitaceae (cucumber or melon) family. Monk fruit is currently being used as a flavour ingredient for foods and beverages. The fruit derives its intense sweetness from naturally occuring sweet consituents in the fruit called mogrosides. Monk fruit has been cultivated and consumed in China for hundreds of years.
Monk Fruit has zero calories, and it is 200 times sweeter than sugar in the same concentration and because monk fruit is so sweet on its own the current monk fruit sweeteners on the market are blended with Erythritol to give it a less of the intense sweeteness to table sugar , Both monk fruit and erythritol is100% natural sugar substitute
Why SugarinM
Sugar Free, Gluten Free, GMO Free - 100% Product Satisfaction Gauranteed
SugarinM is Sugarin ( Erythritol ) infused with monk fruit. This provides a 100% natural sweetener, twice as sweet as sugar. SugarinMcombines the sugar consistency of Sugarin with the great taste of monk fruit. Both Sugarin and monk fruit are calorie-free products
Benefits of SugarinM
Calorie Free

Twice the sweetness of sugar

High Digestive Tolerance

Safe For People With Diabetes ( does not affect blood serum glucose or insulin levels)

Does Not Cause Tooth Decay
2013 Fine Food Australia Exhibition Sydney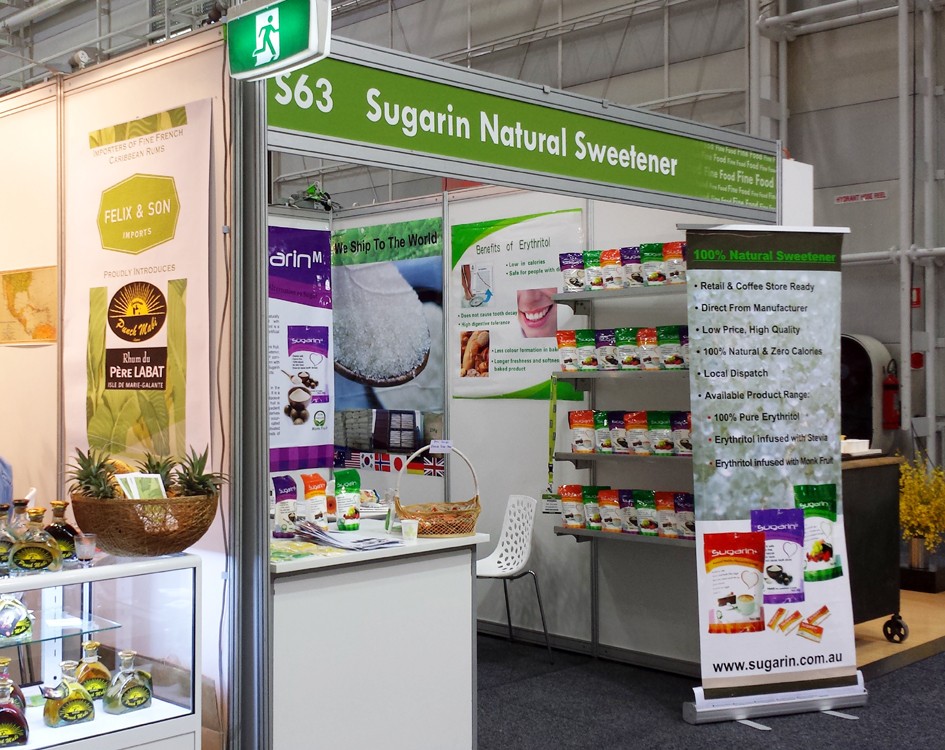 Low Price, High Quality Gauranteed
We Wholesale direct to public
Call Anthony on (02) 97210896
or
Email : [email protected]